Do I need a Website or Blog?
// WordPress Quick Start Guide
---
In this series of blog posts, you will learn how to get your WordPress website started the right way - built on a solid foundation - so that you save yourself tons of headaches down the road.
1. The Difference Between A Website and Blog + 10 Reasons Why Your Business Needs BOTH
Many people think WordPress is "just a blog". Self-hosted WordPress websites power over 30% of the web and are capable of so much more.
2. Quick Start Guide To Setting Up Your Website + Blog
You will learn how to get your website + blog set up on WordPress (you know, all of that technical stuff.)
3. How To Install A WordPress Theme And Instantly Add Style To Your Website
One of the most overwhelming tasks can be figuring out which WordPress theme to choose. We have tried and tested many and keep coming back to these two.
4. Four Pages Your Website Needs Now + How To Add Them
Learn how to easily add these important pages to your WordPress website.
Website or blog?
The primary difference between a website or blog is the way the content is presented to the reader.
A blog is really just a type of website.
A website is made up of static content, meaning the information on the pages doesn't change very often.
Whereas, a blog is made up of frequent "posts" or updates of information posted in chronological order.
Here are the the basic differences between a website and blog:
Website
Content does not change
Information is more formal
Readers don't interact as much
Make purchases
Businesses use to inform about products and services
Blog
A blog is a form of website
Content is updated regularly as a post
Information is more informal
Readers can add comments
Businesses keep readers up-to-date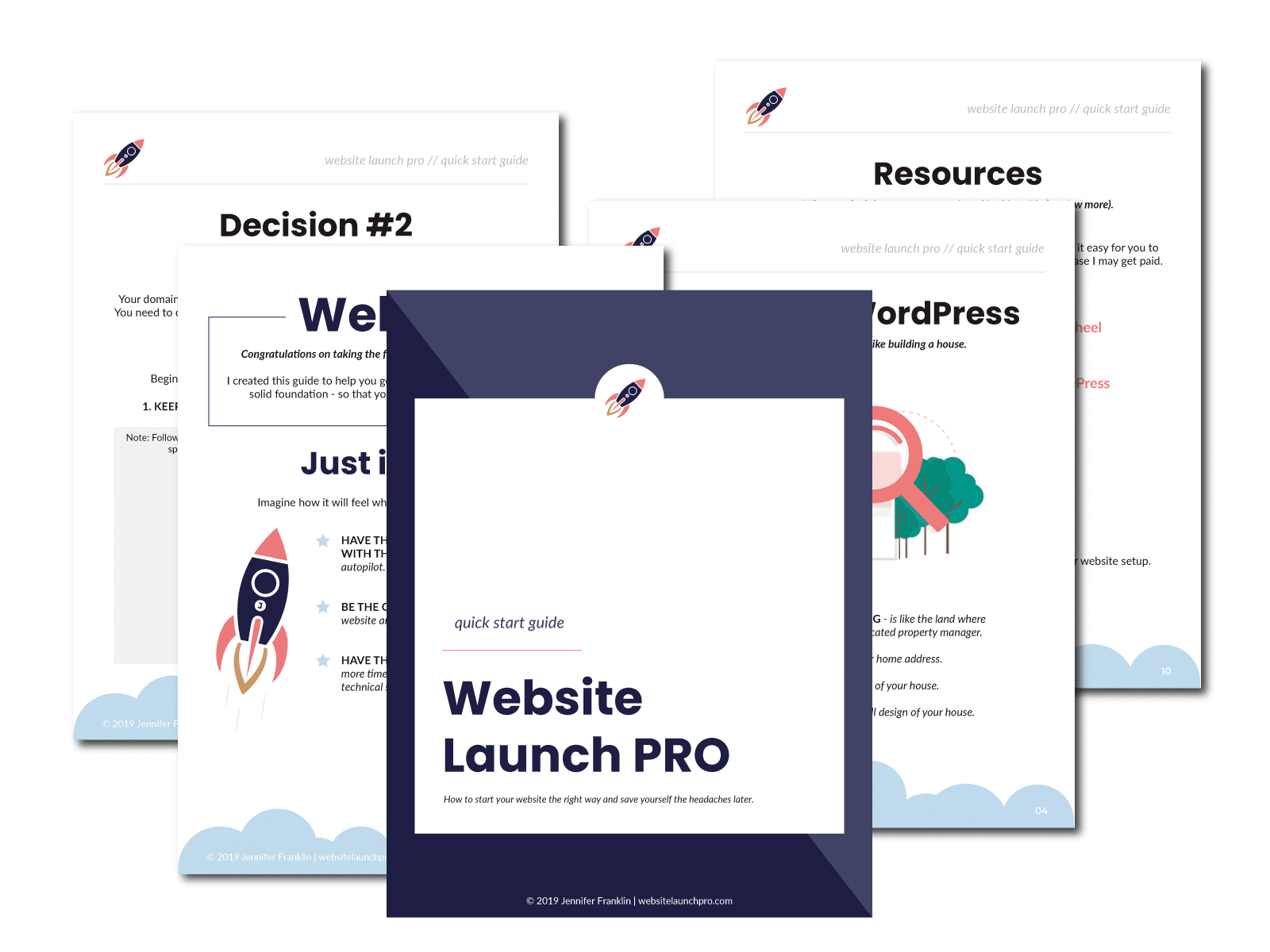 Want my FREE Website Launch PRO Quick Start Guide? CLICK HERE and I'll send it to you! Inside I show you how to get your website set up the right way - built on a solid foundation - so you can save yourself the headaches later. ?
10 Reasons Why Your Business Needs Both
You may be thinking, "So, Jennifer, which is it? Does my website need a website or a blog?"
The answer: BOTH!
Blogging isn't just for bloggers anymore.
I believe that every online business can benefit from having both a website and blog.
Below I list out ten reasons why your business needs both:
1. Your Website Is Always Open
Think of your website's home page as the door to your online business.
Your website is made up of informational pages such as your homepage, about page, contact page, services page, sales page, etc.
Your virtual front door is always open.
If you sell products, courses or have affiliate links then you can earn money while you sleep.
2. Customers Are Looking For You
As far as I can tell the internet has replaced the Yellow Pages. (Sorry to my Yellow Page peeps out there.)
Anyone remember that huge book that used to be delivered to your front door once a year? If you are under 10, then probably not.
Potential customers are looking for you online.
They no longer need to look through this historic book to find buying information when they can do a quick search online.
Aaaaaand if you don't have a website, then no one can find you.
3. Build Credibility
That said, it's not enough that you just have a website. It's important to have a professional-looking website if you want to make a good first impression.
If your website is a HOT MESS, then forget about it.
Your chance of keeping a visitor around to learn more about your business is lost before your page even finishes loading.
4. You Own The Content
As long as your website + blog is self-hosted, you own the content that you publish.
The initial investment to purchase and set up a self-hosted website + blog is minimal.
Bluehost offers a free domain for a year and hosting for as low as $3.95/month when you purchase through my affiliate link here.
GoDaddy
"Basically, if you host your blog on Google's Blogspot or use Blogger; you are giving Google the right to control and access your content and information. Even shut down your blog when they see fit to do so."

- Loren Baker, founder Foundation Digital
5. Share Valuable Information
When you publish a blog post, you are sharing valuable information with your audience.
Blogs help you organize your content by date and category so that users can easily search through your articles.
6. You Become THE Expert
A stellar website along with informative, well crafted blog posts will help position you as THE EXPERT in your field.
Just imagine being able to share what you know with your audience on a regular basis.
Your visitors will come to think of you as the go-to person in your niche.
7. Keep Readers Engaged
Blog posts that help your audience solve a problem will keep readers engaged and on your site longer.
Keep in mind quality is better than quantity. So it isn't a good idea to just hit publish on lots of posts without considering how informative and helpful it is to your audience.
8. Google Will Like You
When you publish high-quality blog posts with valuable content you tell the search engines more about what your website is about.
In addition, links are still the most important factor in Googles ranking algorithm.
By adding both internal and external links you add valuable linking "juice" to your website.
9. Keeps Content Fresh
Blog posts allow you to add fresh content that keeps your readers coming back for more.
To save time and automate your process, you can even write a month or two worth of blog posts and schedule them to post automatically.
10. Grow Your List
One of the best ways to grow your email list is by offering value to your readers.
You offer your reader additional helpful information in exchange for their email address.
You can easily do this every time you publish a new blog post.
Why WordPress?
Thanks to the WordPress.org CMS (content management system) you can now have both a website and blog in one.
I believe this is the best of both worlds.
A website gives you a platform to tell about your business and the services and products you offer.
A blog allows you to add fresh content over time which builds your authority and keeps your audience engaged.
In 2005, my very first e-commerce website was hosted separate from my blog.
*gasp!
I know, right?
For me, WordPress has been a lifesaver!
I can easily customize the website design and there is a HUGE community of people providing help, themes, plug-ins, widgets and more along the way.
Related | Top 10 WordPress Plugins That I Use To Run My Online Business
What do you think?
I would love to hear your thoughts or suggestions on this topic.
Leave a comment below.