WordPress Website Quick Start Guide
// WordPress Quick Start Guide
---
Feeling a little overwhelmed by the thought of setting up your website?
Just Maybe...
You read somewhere that in order to set up your website + blog you need to know how to code - HTML or CSS. (Not true, btw!)
Someone told you that setting up your website is expensive. (You can get started for $30.00 / month + use my affiliate links below to save some moolah.)
You have no idea how to get started. (No worries ~ I'll show you how.)
If this sounds like you, keep on reading because I am going to share with you my super simple Quick Start Guide to get your website set up right way - built on a solid foundation - and save you tons of headaches down the road.
THE NUMBER ONE QUESTION I get asked as a website designer is:
"How do I get started?"
When you follow a PROVEN SYSTEM for launching websites faster, it's easier than you think!
And lucky for YOU, I've spent the past 6 years building websites for clients and have perfected my process so that you don't have to waste another minute trying to figure it all out!
I have helped many entrepreneurs launch profitable websites without the overwhelm, stressing out or smashing their computers in frustration.
Imagine how it will feel when you finally get your website launched…
HAVE THE CONFIDENCE TO SHARE YOUR WEBSITE WITH THE WORLD; boost your traffic, leads and results on a

utopilot.

BE THE CEO IN YOUR BUSINESS; stop working on your

website and focus on growing your business instead.

HAVE THE ONLINE BUSINESS OF YOUR DREAMS; spend

more time helping others and less time stressing over the

technical stuff.
(SUPER SIMPLE) WordPress Website Quick Start Guide
Ready to dive in? CLICK HERE to grab a copy of my FREE Quick Start Guide so that you can follow along and take notes.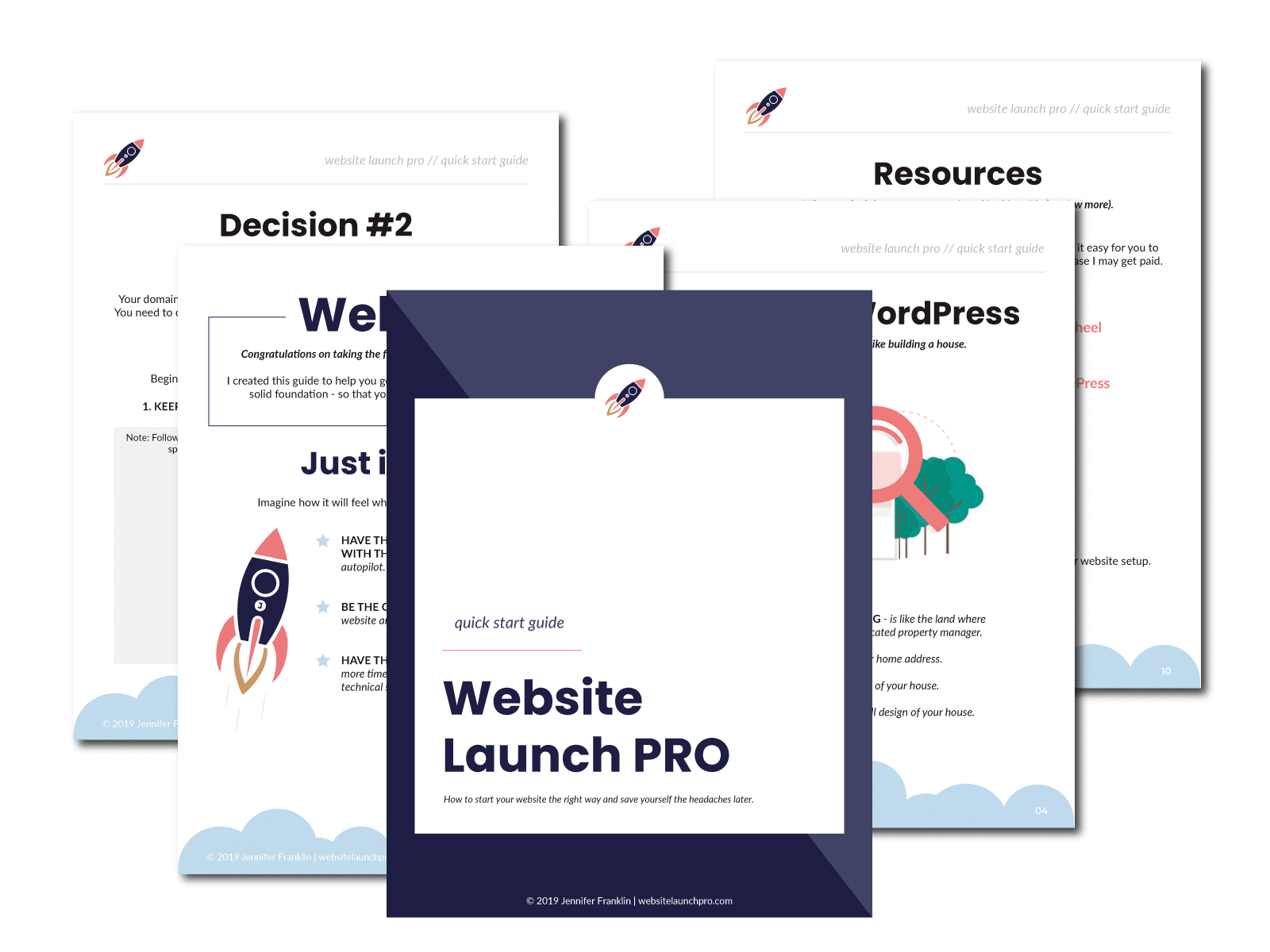 Decision #1 - Which Website Platform is right for me?
There are many website platforms available to build your website on: Wix, SquareSpace, Weebly, Shopify, GoDaddy Website Builder; however, they are not all created equal.
The website platform that I use and recommend is a Self-Hosted WordPress website.
Why WordPress?
POWERS 30% OF THE WORLD'S WEBSITES; trusted by top brands such as Sony, New York Times, Ford and Best Buy.
YOU OWN YOUR WEBSITE CONTENT; easily pack up and move your website should you need to.
OPEN SOURCE SOFTWARE; thousands of developers working constantly to make WordPress better everyday.
WordPress is more than just a content management system (CMS); it's a blog, e-commerce site, complex news site, online course site, membership site, portfolio site and so much more.
The possibilities are endless!
With a self-hosted WordPress website, you own your website content and are free to move to a new host at any time.
WordPress is open source software meaning there are thousands of developers working to make it better everyday.
Your website will be capable of amazing things.
WordPress.com v WordPress.org
Now I know when I say WordPress, it can be confusing because there are two types of WordPress: the .com and the .org.
I do not recommend WordPress.com.
Rather, you want to build your website on a self-hosted WordPress website.
SELF-HOSTED WORDPRESS
Building a WordPress website is a lot like building a house: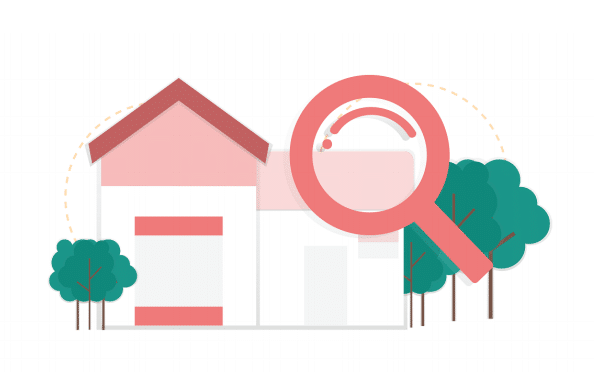 MANAGED WORDPRESS HOSTING - is like the land where

you build your house + you get a dedicated property manager.

YOUR DOMAIN NAME

- is like your home address.

WORDPRESS

- is like the framework of your house.

WORDPRESS THEME

- is the overall design of your house.
Decision #2 - How do I choose a Domain Name?
Your domain name, similar to your home address, is your website's digital address.
You will need to choose and register a domain name to get your website on the internet.
Top 3 tips for choosing your domain name:
Keep it simple

Use keywords

Make it memorable
First, keep it simple. If your domain name is too long, hard to spell and not easy to remember it will make it harder for people to find you online.
Use keywords related to your business name, product, brand or niche.
And third, make it memorable.
Start out by making a list of all the possible domain names that you can think of.
Next, you will check to see if your favorites are available.
To do this, head on over here and use the domain name search bar: GoDaddy
Enter each domain name one at a time into the domain name search bar and click GO.
PRO TIP: Click here and I'll hook you up with 30% off your purchase using my GoDaddy PRO partner affiliate link.
If a domain name is already taken, then you can cross it off your list.
Once you find a domain name that is available, do a happy dance and put a great big circle around it.
PRO TIP: The .com extension is still the most popular and common domain name extension. It is still a good idea to find an available .com that meets all of the criteria listed above.
Here are just a few of the other extensions that you will see available to you:
.co: an abbreviation for company, commerce, and community
.info: informational sites
.net: technical, Internet infrastructure sites
.org: non-commercial organizations and nonprofits
.biz: business or commercial use
.me: blogs, resumes or personal sites
You don't need to purchase every extension of your name.
If you do decide to purchase any of the other domain name extensions, then I suggest that you set up domain forwarding to send these domains to your primary .com website.
Where you might get stuck:
If you have gone through your entire list and none of your .com domain names are available, don't fret!
That just means it's time to go back to the drawing board.
Is it copyrighted or trademarked?
Once you have a good list of available .com domain names to choose from, let's find out if they are copyrighted or trademarked.
If you are in the US, go to URL to check and see if the domain name you are considering has been copyrighted or trademarked.
Finally, put your remaining domain names through the Google search test.
After you have found a domain name that is available, don't forget to check for availability on social media too.
Where you might get stuck: You might think that your domain name has to be perfect before you begin. It doesn't! Use the tips outlined in my FREE Quick Start Guide to help you choose your domain name and then keep going.
Decision #3 - Where do I host my website?
Just like you need land to build your house on, you will need to buy space on a server
to build your website.
There are many companies that offer Website Hosting including: Siteground, Hostgator, BlueHost, GoDaddy, WP Engine and Flywheel.
Over the years, my clients and I have experience with all of the above.
Here is what I have found: not all web hosts are created equal and which one you choose can make the difference in a website that performs well and one that doesn't.
That's why I use and recommend Managed WordPress Hosting by Flywheel.
USER-FRIENDLY DASHBOARD; easily update, manage and backup your
website.
CLOUD SERVER TECHNOLOGY; handle those spikes in traffic with ease.
ONE-CLICK SSL INSTALL; add a free SSL certificate in just one click.
MANAGED CACHING + PERFORMANCE; get a super fast website with less plugins.
MANAGED SECURITY; server-level security means peace of mind for you.
EXPERT SUPPORT; dedicated team of WordPress experts.
PRO TIP: You are putting the fate of your website's speed, performance and security
into the hands of your web host; therefore, it is vitally important to go with a reputable
company like Flywheel that specializes in WordPress to avoid headaches later on.
Now what?
Now it's time to decorate!
You do this by installing a WordPress theme.
What the pros use: Astra and GeneratePress are excellent WordPress theme choices.
Both are lightweight (no extra "stuff"), blazing fast, mobile friendly, updated often,
and have amazing support.
Here's where you might get stuck: There are thousands of WordPress themes to
choose from and it is overwhelming to sort through them all.
Start your website out right with a tried and tested WordPress theme used by the pros.
Don't forget! You can download your FREE Quick Start Guide to help you get your website set up: YES, SEND ME THE GUIDE

What do you think?
I hope you found this quick start guide helpful and are able to easily get your WordPress website set up.
Be sure to share your comments below. I'd love to hear from you!

P.S. How may I support you?
Let me help you get your WordPress website set up so that you can stop stressing and start putting money in the bank.
READY MADE WEBSITE: Sit back and relax while we get your WordPress website installed. All that's left for you to do is add your content with our premium software that allows you to easily edit your website all on your own (no need to be a designer or know how to code). Say what?? CLICK HERE to check out our website designs.
CUSTOM WEBSITE DESIGN: say goodbye to the overwhelm and work with me one on one to reach your online business website goals fast. CLICK HERE to tell me more about your website project and what you want to achieve.