How To Start An Online Business Website
// Business Tips
---
"This is my story about how I quit my day job to work from home and raise my family...I get the best of both worlds."

- Jennifer Franklin
Becoming a mom for the first time can stir up a lot of mixed feelings: JOY, fear, EXCITEMENT, anxiety, ANTICIPATION...just to name a few. 🙂
It's a roller coaster of emotions for sure!
I was over the moon excited for the arrival of my new baby girl, but scared to death of how I would juggle a traveling sales job and caring for a newborn.
My joy was often overshadowed by the thought of going back to a full-time job that had me traveling across the countryside for weeks at a time and missing my little one grow up while I was away.
The turning point for me came late one night when my baby woke up crying.
I realized that I left the diaper bag in the car.
When I opened the hotel room door to run to my car there was a man passed out in the hallway!
So I quickly shut the door and called the front desk.
That was it!
I thought, "What am I doing with my life?"
Deep in my gut I knew I couldn't be a good wife, mother and employee in my current situation.
I desperately wanted to find a way that I could earn money AND stay home with my baby girl.
You know when they say, "Where there's a will, there's a way"?
Well, I pretty much willed myself into coming up with a way that I could do both.
As I searched online for things like "trendy baby bedding" and "modern diaper bags", there really weren't a lot of amazing places to buy these items at the time.
It was during one of my failed Google searches that I realized I COULD START AN ONLINE BUSINESS WEBSITE and offer new moms all of the really cool baby items that I was searching for.
It was like an AHA moment for me where the clouds parted and the sun shone through.
I pictured what it would look like in my mind and I believed I could do it.
So...15 years ago, I quit my job and launched an online business website - a baby boutique.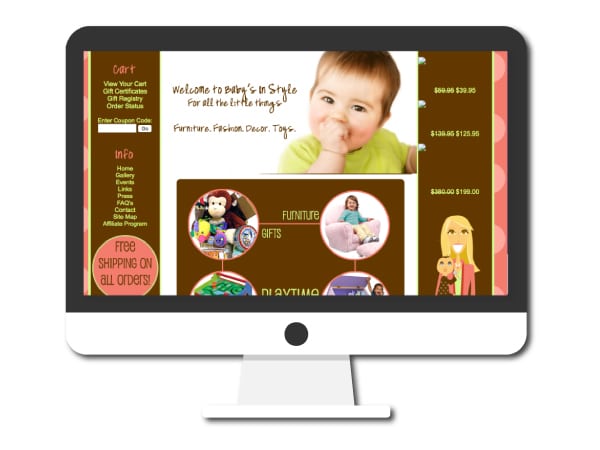 But… like most entrepreneurs I know, I had no idea how to get started.
I spent hours asking Google how-to launch an online business, made tons of bad investments, and wasted both time and money with trial and error.
Including forking over $12K to a "business coach" to help me launch my online business, plus I ended up paying another $2900 for my website.
I so desperately wanted out of the rat race that I would have done anything.
For a while my stomach was pretty sick about how I would recover this initial investment.
I decided that instead of focusing on the cost, I would dive right into developing my business.
Launching an online business was hard work, but I am NOT a quitter.
I learned everything I could about launching an online business website.
Believe me, this is just the "short" list: domain names, website hosting, cPanel, email marketing, HTML, sourcing products to sell, working with manufacturers, drop-shipping, online marketing, magazine advertising, selling physical products, selling on Amazon, selling on eBay, processing orders, researching keywords, understanding SEO, meta tags, meta keywords, meta descriptions, image alt tags, Google Adwords, Google Analytics, blogging…
I worked hard at growing my business every single day and then it happened.
I got my first sale!
It was for a Galt Trampoline like this: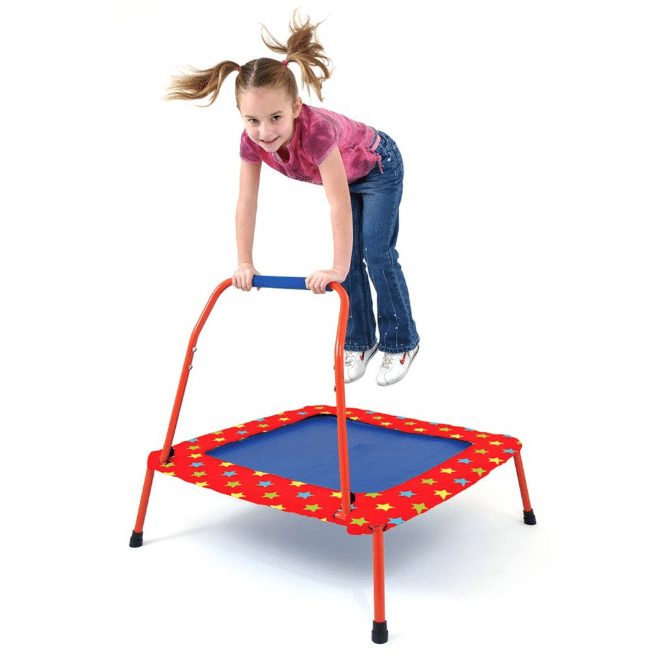 I'm pretty sure if I could do any sort of gymnastics flip, I would have done something spectacular at that very moment.
I was like, "YES! I CAN DO THIS!"
And do you know what that first sale did?
It gave me CONFIDENCE.
The hardest part was getting to that first sale, but then you know what?
I gained MOMENTUM.
So why am I telling you all of this?
If I Can Do It So Can You!
If only I had known then what I know now, I could have gotten here faster.
Maybe...
You are exactly where I was a few years ago
You have a kicka$$ business idea, but don't know how to get your website set up
You have some amazing logo, website and social media ideas, but don't know how to tie it all together
I totally GET. IT.
Have we met yet?
My name is Jennifer Franklin and I am the Mompreneur behind the scenes.
I would not be here today if I did not have the courage to roll up my sleeves, dive in and launch my first online business.
Here's how my life has changed:
I have FREEDOM + FLEXIBILITY. I can work from anywhere as long as there is wifi.

I'm the boss, although I'm still getting used to this CEO role.

I get more time to spend with my family and am so blessed.
Back then I thought I had to do #allthethings and definitely earned myself the BUSY BADGE.
At the time, I didn't even know about online courses that would teach me any of this.
But I didn't get here today just by hustling.
In fact, after that first business I learned A LOT.
And fast forward to today, I know that I can make the MOST PROGRESS when I invest in programs and people who already know how to do the things that I want to do. #lessonslearned
RELATED | Is your to-do list a mile long? CLICK HERE to learn how to delegate tasks like a pro (+ grab my FREE To-Do List Optimizer Worksheets).
You too deserve to have the lifestyle that you want.
That's why I am so passionate about what I do —> you get the knowledge and expertise of what took me years of trial and error so that you can launch your website quickly and start putting money in the bank.
For the past 6 years I have been building websites for clients, entrepreneurs and non-profits, and have perfected my process so that you don't have to waste another minute struggling.
Today my business helps entrepreneurs launch profitable websites in less time and without the tech headaches.
You're in the right place if...
You have been trying to get your website set up, but you aren't sure what to do next and are tired of wasting hours spinning your wheels.
You have outgrown Wix, Weebly, GoDaddy Website Builder, SquareSpace, ClickFunnels or LeadPages and are ready for a permanent home on the internet where you OWN your content.
You are ready to finally create + launch your website and want a PROVEN PROCESS to follow so that you can start hitting your online business goals faster than you thought possible.
What kind of online business website do you want to start?
Leave me a comment below.
I would love to hear from you! 🙂

p.s. Want to work with me to get your online business website set up?
Here are a few ways I can support you:
Work With Me One-on-One (virtual & in-person): This includes working with me personally to map out your online business goals and get your website working for you so that you can start getting leads, sales and results on autopilot. This is great if you want to build a brand new website from scratch or re-launch your current one.
Interested? CLICK HERE to tell me more about your website project and what you want to achieve.
Web Expert Premium Access Plan: You get monthly access to a web expert (me) to keep your WordPress website happy and healthy. You can rest assured that your website is being cared for with daily back-ups, frequent software updates (just like a car, your website requires regular maintenance to keep it running fast and secure) and so much more. We even take care of the premium license fees for software that we add to your website so that you get the added functionality without the hefty price tag - saving you hundreds of dollars per year.
Interested? CLICK HERE to schedule a FREE website review and I will let you know the areas of your website that can be improved.
Website Launch Accelerator: This is my premium course program that is everything you need to create and launch your profitable website from scratch quickly. It includes a really robust course on everything from mapping out your Growth and Profit Plans in order to accelerate your website launch. Plus it comes with weekly coaching calls to get your questions answered.
Interested? CLICK HERE to get on the waitlist! (I will be opening again for enrollment soon.)