Breaking out of the "single project" mindset and building a steady stream of monthly recurring revenue has been the key to success in my WordPress consulting business.
The problem is that once you learn more about how to offer WordPress Site Maintenance packages, you will probably be wondering what tools do I use?
If you're like I was in the beginning, you're probably relying on quite a few different tools to manage your business:
maybe you have one software for billing and invoicing,
another for creating and sending client reports,
and maybe even another for monitoring client sites.
You end up spending a lot of time switching between programs, compiling reports and creating and sending invoices.
Flywheel's Growth Suite is an all-in-one solution built specifically to help agency owners and freelancers master their business growth by combining managed WordPress hosting with client and site management, automated billing and beautifully branded client reports.
The good news is that Flywheel's Growth Suite was built specifically for WordPress agencies and freelancers to grow their WordPress businesses.
In my experience, I have found Flywheel to be extremely reliable and their support team knowledgeable and super quick to respond to tickets. And now WHAT I LOVE EVEN MORE is that with the addition of Growth Suite I can manage my clients and their sites all in one place within a modern, easy to use, intuitive dashboard of your growing business.
Let's head over to the Flywheel Dashboard and I'll show you around: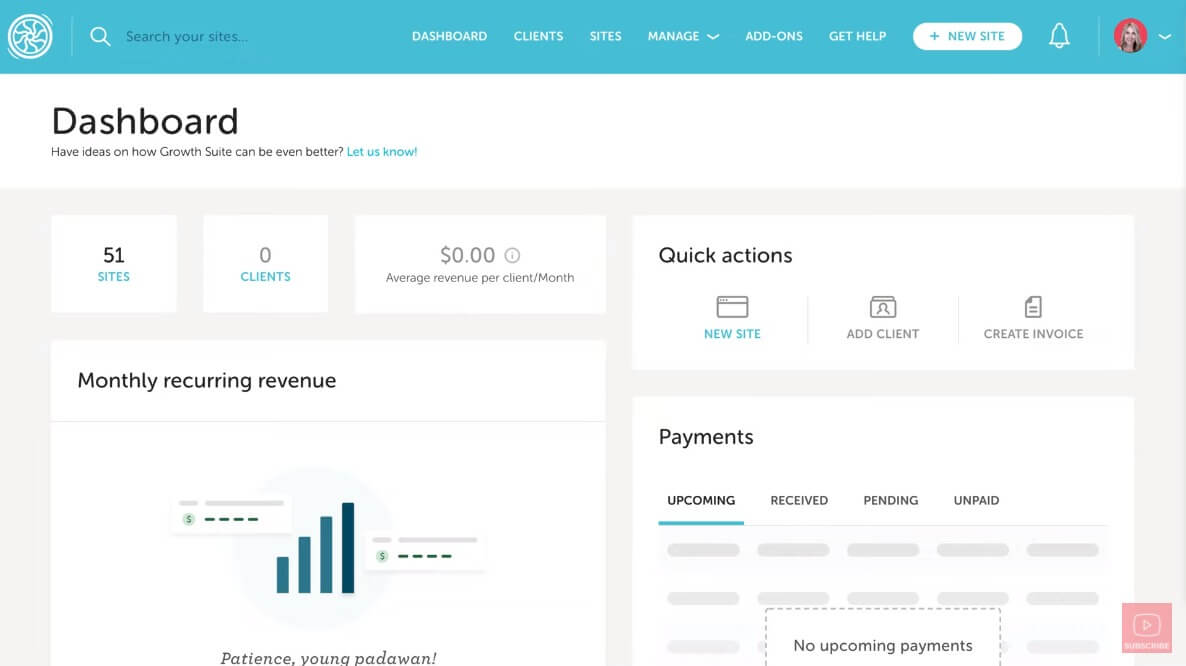 To get started, let's dive right into the price.
Flywheel is going to cost a little bit more than a traditional shared hosting plan; however, what I have found is that by moving all of my client sites over to one plan at Flywheel I am able to spread the cost across multiple sites and significantly lower the cost per site.
Flywheel's customer support is amazing and would be happy to answer any questions that you may have. If you want to see Flywheel's dashboard in action and ask any questions you are more than welcome to schedule a demo.
In addition to the piece of mind knowing my client sites are well taken care of, here are some of the reasons why I am happy to pay a premium:
Managed caching and performance: Flywheel handles caching for you at the server level, using super fast servers to begin with, and even works individually with their customers to further optimize your sites for the best performance. No plugins needed!
Managed security: Flywheel proactively scans and blocks malware and hacking attempts. They do all of this at the server level, without the need for any additional plugins or configuration. And in the unlikely event that your site is hacked, they'll fix it for you, free of charge.
Managed software updates: Flywheel will work with you to make sure your site is always running the latest and greatest WordPress software.
Expert WordPress support: Their team of WordPress experts goes above and beyond what nearly any other managed hosting company will help out with.
Once you decide on a plan and get signed up, when you first login to your Flywheel Growth Suite dashboard you will notice that there is a nice little 6 step checklist to help you get your dashboard set up: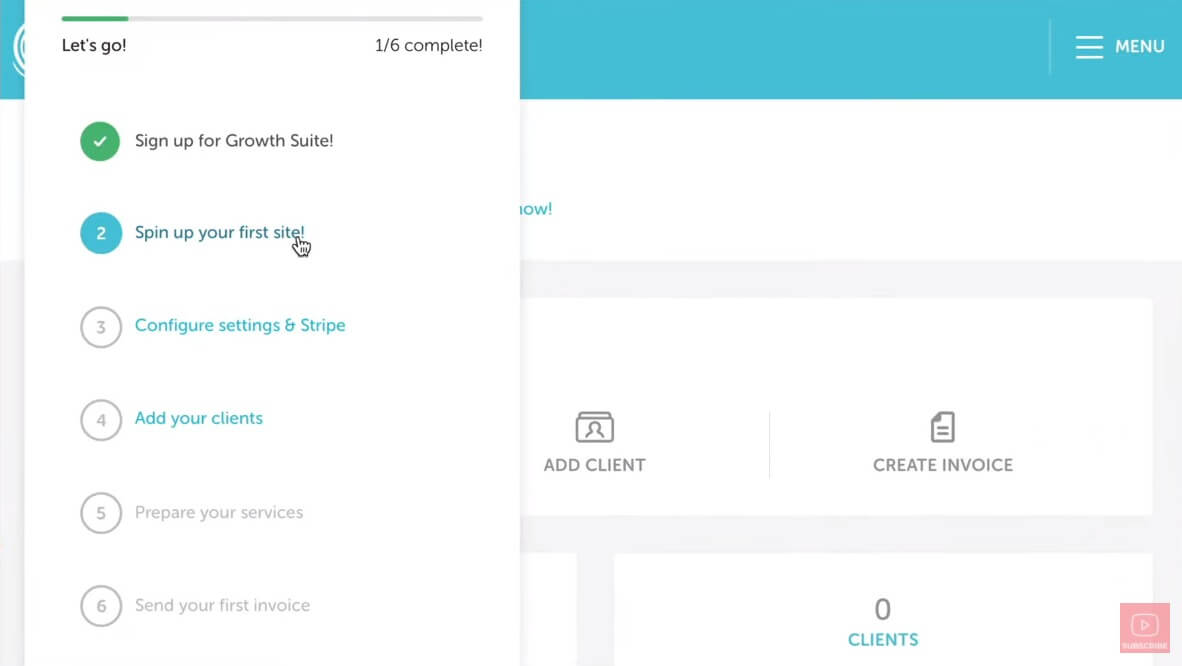 And YAY, we already have step number one checked off the list:
Step 1: Sign up for Growth Suite!
Step 2: Get you get your first WordPress site installed,
Step 3: Configure your settings and StripeStep 4: Add your clients
Step 5: Add your list of services that you offer
Step 6: Send your first invoice
Once you have completed setup, you can go ahead and click the trash can to remove this notification from your dashboard. For now we can click on the X to minimize it.
Client Reports
My favorite feature of Growth Suite is Client Reports.
I have found that sending monthly client reports is a simple way to grow your client relationships and turn your one time projects into monthly recurring revenue.
You can easily create and schedule beautiful reports for your clients. Reports are agency branded and you can customize the details that you want your clients to see.
Simply specify a date range and your Growth Suite client report will automatically pull in the important information your clients want to see. This includes all WordPress and plugin updates, backups, security updates, and optimization efforts.
In addition, you can include Google Analytics insights like bounce rate, average time on site, conversion rate, traffic sources, and devices used to access their site: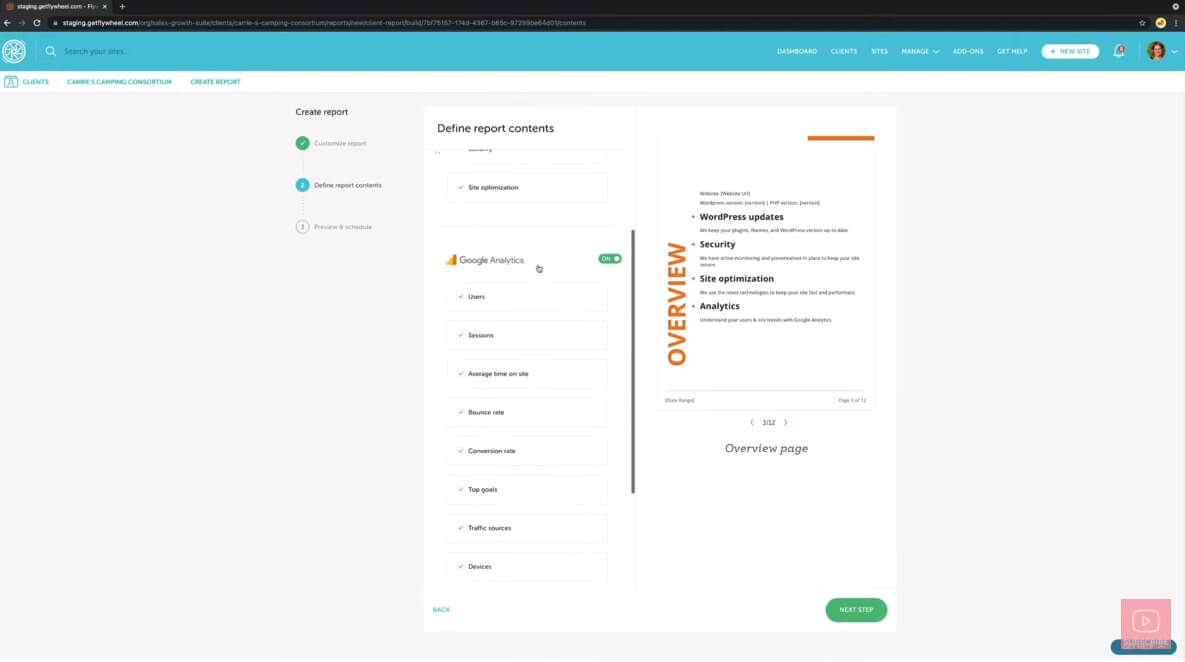 You can also add a Personalized Note to let your client know about any recent work done on their site.
Once you've created the report you want, all future reports are fully automated based upon the schedule that you put in place so you can set it and forget it.
You can save yourself or your team a ton of admin time while still staying top of mind with your clients and letting them know that their websites are taken care of.
Your clients can review the backlog of every report you send them, as well as view and pay invoices through their very own client portal.
Before you decide whether or not to move all of your client sites over to Flywheel, I would encourage you to sign up for a demo site and check out all of the features that Flywheel has to offer.
Flywheel's customer support is amazing and would be happy to answer any questions you may have. There are a number of ways to get in touch:
Chat
Phone
Email
Schedule a Demo
QUESTION OF THE DAY: How do you send client reports? Let me know in the comments below.