SUBSCRIBE to my YouTube channel
How to create your WordPress website fast
// WordPress Tutorial
---
SIX words most moms don't want to hear your 9 year old ask on the weekend:
"Mommy, can I build a website?"
Building a website with a 9 year old was not at the top of my list, so when my daughter came to me I was a tad hesitant because I envisioned a lot of work ahead of me.
I sat her down and interviewed her about her plan to build a website. She told me about her homework assignment to write a paragraph about "shining your light" and how this sparked an idea to spread kindness throughout the community + world.
How do I say no to that?
So we got to work.
In fact, we followed my system for launching websites and had it all set up before the weekend was over.
In today's video, my daughter shows how easy it is for you to create a new WordPress website in just a few minutes.
Many entrepreneurs I work with end up spending hours trying to find the "perfect" theme and end up frustrated because they can't figure out how to get their website to look as beautiful as the demo site.
Until now.
Today we are going to show you a faster way to create a beautiful new conversion-optimized WordPress website design in just a few clicks.
In fact, it's so easy my 9 year old can do it. 🙂
She built her very own website from scratch in just one day and you can too! (You can check out her amazing website here.)
A professionally designed website framework can be installed with just a few clicks.
And this is a SUPER EFFECTIVE SHORTCUT that I teach to students in my signature program, Website Launch Accelerator, where I coach a faster way to create and launch your profitable website without stressing out over design or tech.
Building a website is a lot like building a house. You can go out and spend tons of money on a custom built home (or website) which takes a lot more time and money upfront.
OR you can hire a home builder who has proven floor plans to choose from and you get to choose your finishes: cabinets, flooring, paint color, hardware, trim, etc.
THE FRAMEWORK is the same.
When you start with a framework (a pre-designed floor plan or website), you take advantage of using someone else's custom design.
This offloads the expense of having a custom home (or website) built just for you.
You get the best of the best in terms of design.
PLUS, all of the testing has already been done for you in terms of what design works best (optimized for conversions).
In fact, in this video we show you how to begin your website project with a CONVERSION-OPTIMIZED WEBSITE FRAMEWORK.
Just like a home builder...you get the benefit of knowing that these website designs WORK - they have been tried and tested.
The big benefit to you is that you don't have to pay the big bucks to get started with a custom design.
The website design framework has been designed once and all that's left for you to do is customize it with your fonts, colors, images and content.
And because each website is customized to fit your business - no two websites ever look the same.
Ready to create your beautiful new WordPress website in just a few minutes?
Let us show you how super simple it is to create your WordPress website from scratch with the help of a few powerful tools.
In this tutorial we will be using the following WordPress theme and plugin: Astra WordPress theme and Astra Sites plugin.
Here's how to get started creating your WordPress website from scratch in just a few easy steps:
1. CLICK HERE to create a web hosting account with my preferred partner (you can try it FREE for 14 days with this link). If you already have your web hosting set up and WordPress installed skip to step 3.
2. Once you have your web hosting account set up, click on CREATE NEW SITE to get started with WordPress (sit back and wait a few minutes while WordPress is installed for you)
3. Login to your WordPress Dashboard; go to APPEARANCE > THEMES > ADD NEW and install this theme (choose from FREE and paid versions)
4. Next, go to PLUGINS > ADD NEW and install this plugin
5. From your WordPress dashboard, go to APPEARANCE > STARTER SITES and choose your favorite website from over 100+ designs; click IMPORT SITE
6. That's it! Now you can customize your beautiful new website (we love this page builder plugin) to make it all your own!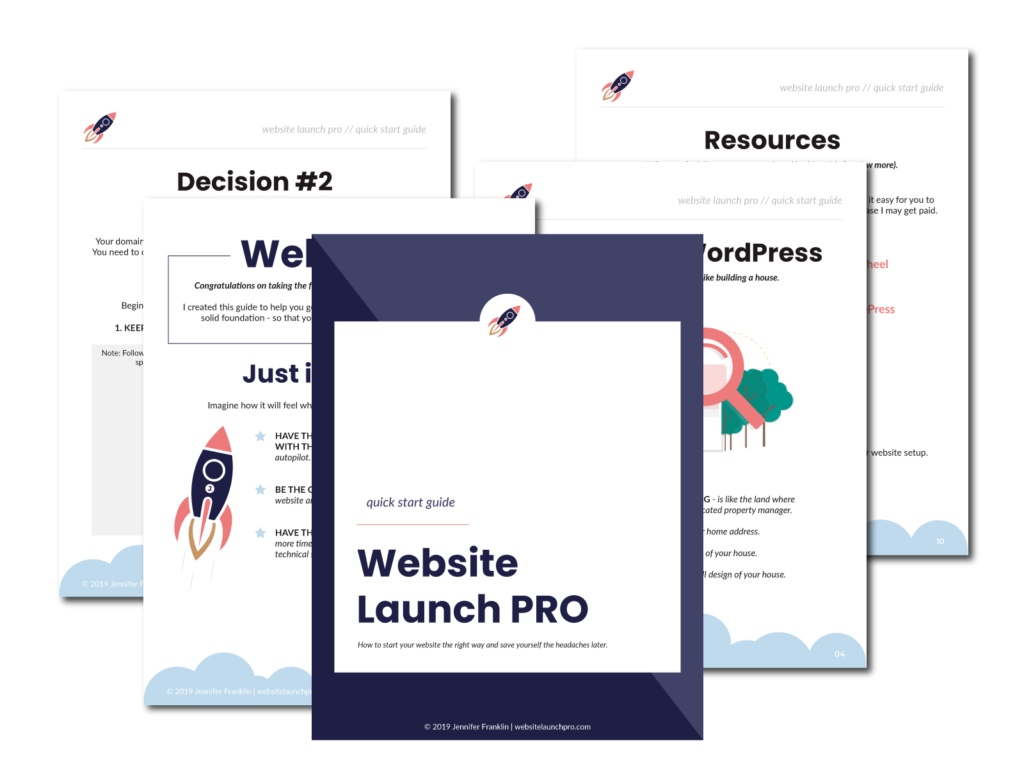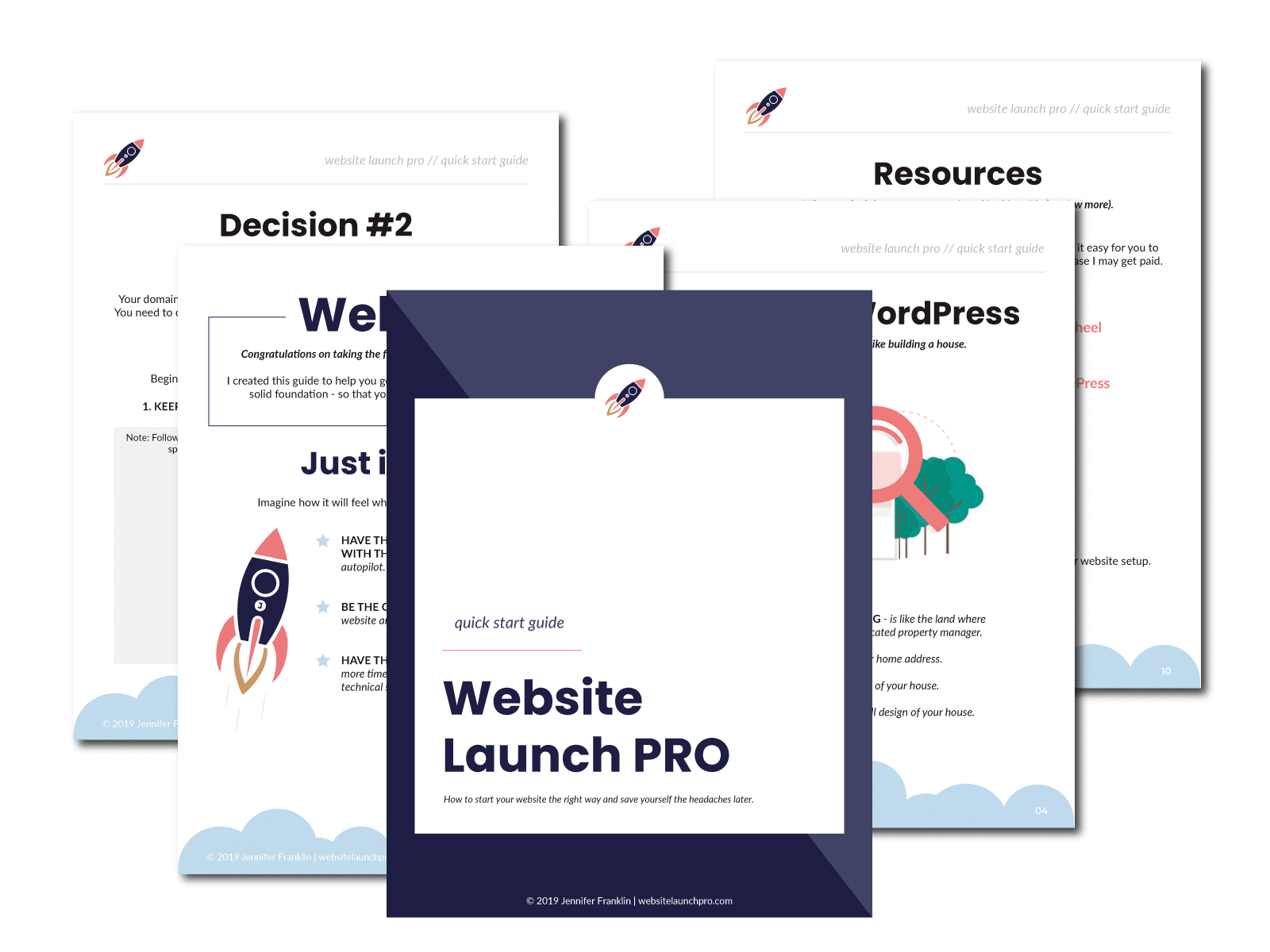 Want my FREE Website Launch PRO Quick Start Guide? CLICK HERE and I'll send it to you! Inside I show you how to get your website set up the right way - built on a solid foundation - so you can save yourself the headaches later. 🙂
PRO TIP: In this video we show you how to install a conversion-optimized WordPress website design on a new install of WordPress. Before you install the website via the IMPORT SITE link on an existing site, be sure you take a backup of your current site and make any changes on a staging site (not your live website).
A note from the developer:
"Astra Starter Sites plugin does not delete existing content, but it imports new settings and content.
More specifically, the plugin imports things as below:
1. Customizer Settings
2. Widgets
3. Menus and Content (Pages, Posts, Images and Media)
4. Custom settings of some plugins
So you can import it on an existing website. But beware that the process imports new content and settings as well, just go to pages, posts, menu, widgets and delete the content that was added in the import process."
What do you think?
I hope you found this video useful. Leave me a comment below.