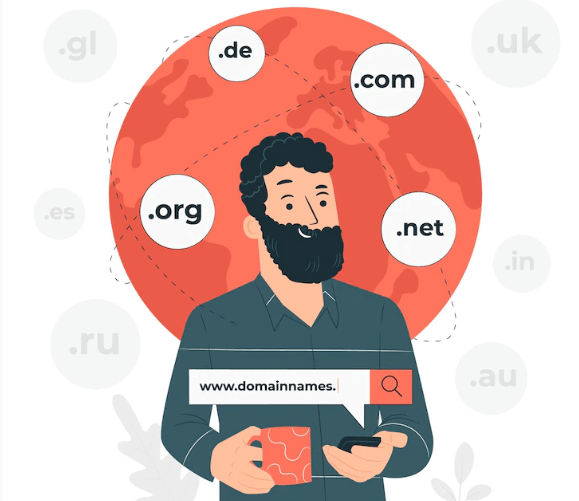 What is Domain Authority?
Domain authority as defined by Moz is "….a search engine ranking score developed by Moz that predicts how likely a website is to rank in search engine results pages (SERPs)."
As we can see from the definition, it's a ranking score developed by the software company Moz. The important thing to note here is that this score is not used by search engines themselves.
This score only tells you the probability of a website ranking high in the SERPs. Nonetheless, it is a good indicator and webmasters use it as a reference regularly.
How to Measure Domain Authority?
Domain authority is measured by assessing various factors such as the total number of links a website has. It ranges from 1 to 100 and generally, a score of above 50 is considered very well.
All the giants of their respective industries such as Microsoft, Apple, and Google have a domain authority above 90.
The goal for most webmasters shouldn't be to reach a particular value of authority, instead, it should be to constantly keep improving it.
A website with a score of 20 should aim to get at 40. A site with a score of 40 should aim to get to 60…and it goes on.
There are various online tools that can measure the domain authority of a website. Let's take a look at five recommended ones that can help you do it easily.
5 Recommended Tools for Checking Domain Authority in 2022
1. Moz
Moz is the company that developed the ranking score called domain authority. So, it makes sense that they will have a good DA checking tool. Let's take a look at some of its features.

It has a very straightforward user interface. All you need to do is type in the name of the website, whose DA you want to check, in the search bar.
Press the 'Analyze domain' button to start measuring the stats. Immediately, you can see a high-level view of the results. You can see the domain authority, linking root domains, ranking keywords, and spam score.
Scrolling down, you will see a list of all the pages of the site in the order of best page authority to worst.
Pros
Accurate results
Free
Easy to use
Good UI
Cons
Can check only 1 site per search
Prepostseo is an online collection of tools that are used for technical and non-technical SEO. The DA checker is one of them.
Prepostseo has a free and premium version. The DA checker tool is also a page authority checker as well. It allows free and unregistered users to check the domain authority of ten websites at once.
The results show the domain authority, page authority, IP address, spam score, and a link to the Google site map of each website you entered. In the free version of the tool, you can only see the spam score of the first two websites.
You can download the results as an Excel file.

Pros
Detailed results
Very accurate
Simultaneous checking of up to 10 sites for free (500 for premium)
Free
Easy to use
Cons
Inetventures has a free domain authority checking tool. It has a minimalistic site design and there are no annoying advertisements on the webpage.
The tool is free to use and requires no registration.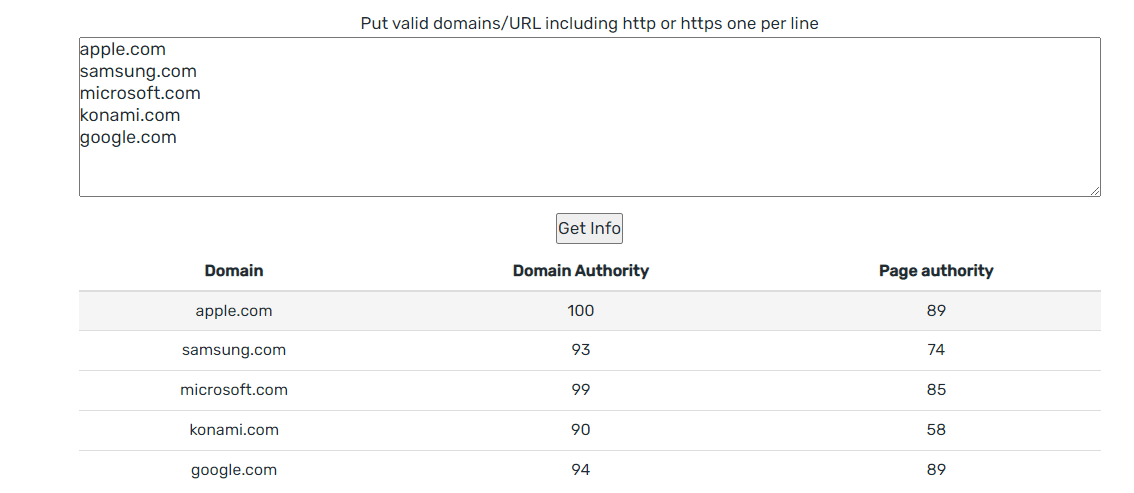 This tool is easy to operate. You have to type or paste 5 URLs maximum in the input box and press the 'Get Info' button.
In the table below, the results will show up. This tool only shows the domain authority and page authority in the results.
Pros
Free
Simple UI
Accurate Results
Easy to use
No advertisements
Cons
Softo.org is an online SEO toolkit. It provides various tools that are used in SEO. Of course, the DA checker is one of them.
The entire Softo.org tool kit is free to use. The DA checker tool allows you to check 20 websites at once. The results of the check show the following for each website: domain authority, page authority, spam score, Moz rank, and index pages.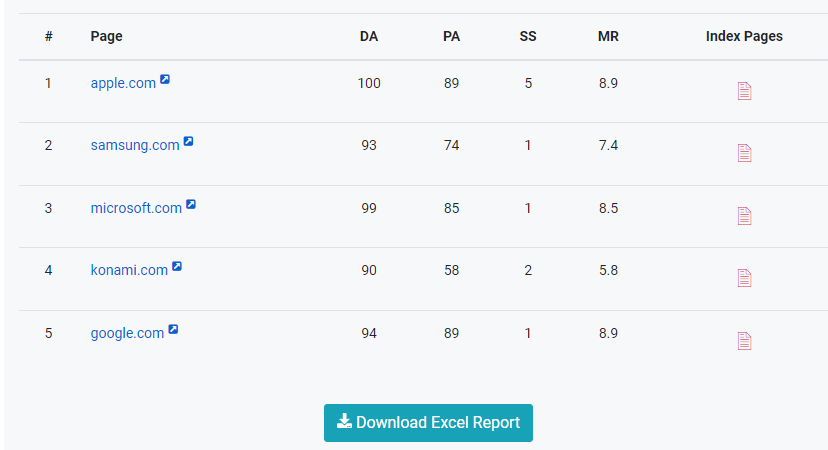 'Index pages' is just a link to the Google sitemap of each website. The results are accurate and the process is fast. Overall, this is a considerably good tool.
Pros
Free
Detailed results
Easy to use
Intuitive UI
Cons
5. Sitechecker.pro
Arguably the simplest tool on this entire list, Sitechecker.pro is a free online tool that can check the domain authority of any website.
This tool has a simple user interface and just like Moz, it can only check the authority of one URL per query.

You need to write the URL of the website whose domain you want to check into the search bar. The results will be shown just below but unfortunately, this tool has very lackluster results.
It only shows the domain authority and nothing else. To its credit, though, the domain authority is accurate.
Pros
Free
No advertisements
Easy to use
Accurate results
Cons
Conclusion
These were five domain authority checkers that you can use in 2022. All the tools had various pros and cons that made them different from each other.
We checked out the free version of Moz DA checker. It could only measure the DA of one website, but it provides very detailed results.
The Prepostseo.com DA checker had some limitations on it, such as not being able to see the spam score unless you upgraded to premium. But it allowed you to bulk check up to 10 sites at once. Its results were also good.
Inetventures.com is a simple tool that allows you to check the DA of five websites. The results only show the domain authority and page authority. The lack of advertisements, however, was very welcome.
Sitechecker.pro was the least impressive tool on the list. It could only check the domain authority and gave no detailed results. The fact that it could check only one website at a time was also bad. The absence of advertisements was much appreciated though.