It's March Madness and with so much attention focused around watching sports on TV, I figured it's the perfect time to bring you my first Life Hack where I cancel cable save money!
Cutting the cable cord was scary for me too! It took me FOUR months "thinking about it" before I decided to cancel cable save money.
Here I outline what I did to cut cable and save over $972 last year:
Purchase Amazon Fire Stick (if you have a smart TV skip this step)
Connect to Wi-Fi (I skipped this step because I already have High-Speed Internet at home through CenturyLink)
Sign up for Sling TV (I tell you why I chose this service below)
Watch your favorite shows (and SAVE MONEY!)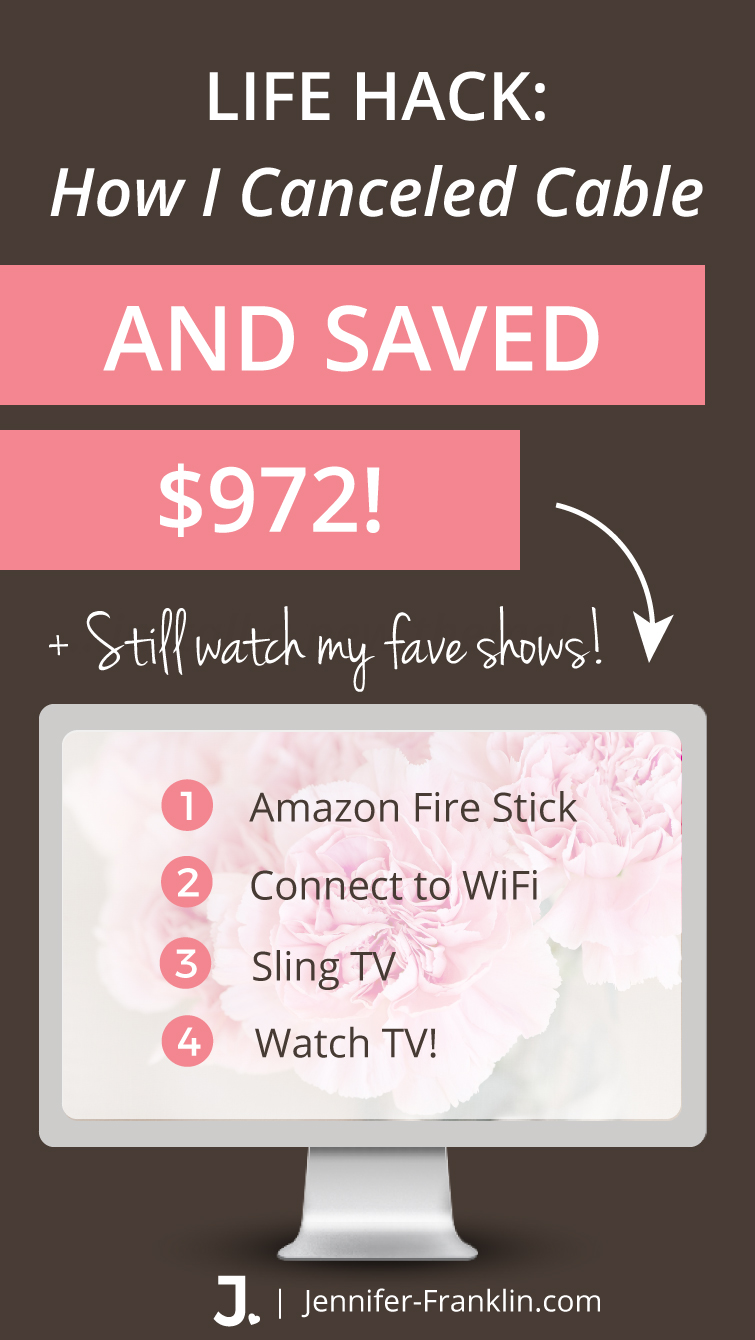 Full disclosure: I LOVE Amazon!
A year ago, I signed up for Amazon Prime
($99 annually or $10.99/ month) and now order 95% of my online items through Amazon.
Overheard at my house:
If Amazon doesn't have it, then you don't need it! 🙂
I could write an entire post on the many reasons why I love Amazon Prime. If you're like me and shop for (almost) everything online, the money you will save on shipping charges alone more than pays for the cost of membership. My number ONE favorite thing is that I can shop thousands upon thousands of items and get them delivered to my doorstep for FREE in 2 days!
Because who wants to wait around for a week for your newly purchased items to show up? Not me!
Now that I have cut cable, my family and I really love the unlimited streaming of movies, TV shows and music; all included with the Prime service. And this doesn't begin to scratch the surface of all of the benefits.
For the above reasons and many more, it made sense for me to consider the Amazon Fire Stick
. I don't have smart TVs so I needed something to allow my TV to stream TV shows wirelessly. It just so happens that I logged on to my computer during one of Amazon's amazing sales and was able to buy the Amazon Fire Stick
for $19! Score!
It arrived the next day! (I heart Amazon!)
The Amazon Fire Stick was easy for me to set up: Plug Fire TV Stick into my TV's HDMI port, connect to Wi-Fi (you will need a way to connect to Wi-Fi in order to stream TV, movies and music), and Voila! I was watching my TV without the high cost of cable in no time!
Other options you may want to consider include: XBOX One, Roku, AppleTV, and Android TV. All of these devices allow you to stream live TV as well.
2 | Connect to Wi-Fi
IMPORTANT: You must have a way to connect your Fire Stick to Wi-Fi in order to stream TV, movies, music and more from your TV without cable.
I already had High-Speed Internet service through CenturyLink so I was able to skip this step. This is our home Wi-Fi that we use to connect all of our "iDevices" and laptops. For me, CenturyLink has been super reliable and affordable. They offer promotions to sign up and our bill is always the same with no hidden fees (love that).
3 | Subscribe to Sling TV
I chose Sling TV because in addition to watching at home on my TV, I am able to stream unlimited Sling TV FREE on all of my family's T-Mobile phones (T-Mobile had a promo code where I signed up for Sling Orange for $15.00 per month and get free unlimited streaming) with the Sling TV app. Get $5 when you sign up today: click here to save!
Did I mention there are no hidden fees, no monthly contracts and you can easily cancel online at any time?
Like I said in the intro, it's March Madness around here, and my family can't get enough sports channels! With Sling Orange, we get ESPN, ESPN2 and ESPN3; however, this just wasn't enough so this month I added the Sports Package for $5 more per month.
I am able to add the Sports Package for now and once summer activities get under way, I will cancel it with no penalty.
FREEDOM!
AND... if you fell in love with Amazon Prime like I did, then you will also be able to watch thousands upon thousands of movies and TV shows through Amazon Video and Amazon Music. I can access both of these on my TV through the Fire Stick. My kids have downloaded the Amazon Video and Amazon Music apps to watch and listen on their phones. You can do that too!
4 | Watch Your Favorite Shows
As of today, Sling TV offers three different packages: Sling Orange, Sling Blue, and Sling Orange + Blue.
Sling TV offers a FREE 7 day trial here if you want to try it first before you commit - that's what I did before I committed 100%!
If you search the internet for a coupon code, you may also be able to save a few more bucks like I did with the T-Mobile promo.
Depending upon the package you choose, here are some of the channels available. Keep in mind that they offer add-ons like the Sports Plan for just a few bucks more per month: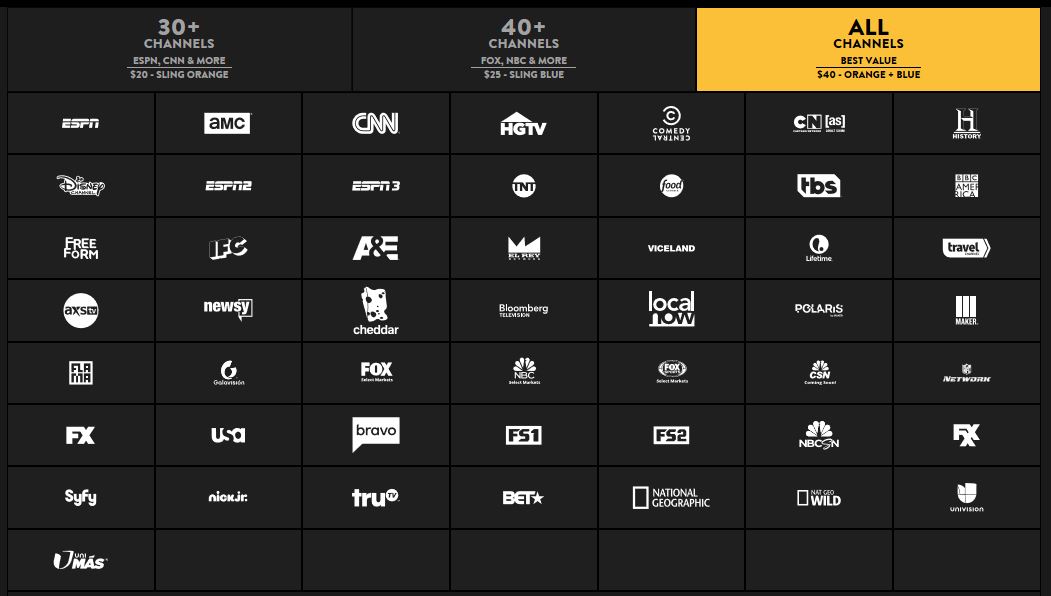 How Exatly Did I Save $972?
Here's what I did to cancel cable save money:
Monthly Cable Bill: $96.00 - Monthly Sling TV: $15.00 =
$81.00 / month savings!
For a grand total of $972 saved last year!
Did you cancel cable save money yet?
Give me a shout out below.
Better yet PIN this post to Pinterest and share the love with your friends!
#goodbyecable

---
This page contains an affiliate link. If you make a purchase, then I get paid a few bucks. I am only recommending this product because I use it myself and love it!