SUBSCRIBE to my YouTube channel
mistakes entrepreneurs make when creating website
// Website Tips
---
In today's video, I share with you 3 major mistakes most entrepreneurs make when creating your website.
Find out what they are so that you can avoid making them yourself AND overcome any mental blocks that may be holding you back.
Are you ready?
Let's dive in!
In my experience the mistakes entrepreneurs make when creating websites are:
Mistake #1 - Waiting until your website is "done" before you launch
Most entrepreneurs I know think you have to get your website "perfect" before you can launch.
You say things like, "My website isn't perfect so I can't launch it yet."
I have found this the number one roadblock that gets in the way of entrepreneurs making progress and moving your business forward.
Just maybe…
You worry about getting your messaging just right.
You don't think you have enough content or you think you have too much content.
Your images aren't good enough.
You fret about what plugins to use.
You stress over which theme looks good.
I get it.
I've worked with many entrepreneurs who have felt the same way.
The truth is your website is never really "done" anyway.
And we get hung up on the details.
That's why when you work with me, watch my videos or read my posts, I teach you what it takes to make progress easily.
Make it simple and dare I say, FUN!
PROGRESS is the goal.
The number one thing that keeps you from progress is PERFECTION. Your website will be better if you just LET IT GO!
This one simple mindset shift will move you toward the PROGRESS you want to make in your business.
Don't worry about getting it perfect - you can always change your mind and come back.
Your website is never really DONE - just like your business it will grow and change with you!
Mistake #2 - You think you need to be or hire a "designer" to build a website
I hear so many of you telling yourself all kinds of things like:
"I am not a designer."
"I don't have a designer bone in my body."
"I am lazy if I use a professionally-designed website framework."
"My website will look like everyone else's."
The truth is you don't have to be a designer when you follow a proven system to create and launch your website.
A professionally designed website framework can be installed with a few clicks of your mouse.
I teach this SUPER EFFECTIVE SHORTCUT in my program, Website Launch Accelerator.
I show you how to begin your project with a CONVERSION-OPTIMIZED WEBSITE Framework.
You get the benefit of knowing that these website designs WORK; they have been tried and tested.
The big benefit to you is that you don't have to pay the big bucks to get started with a beautiful design.
The website has been designed once and you customize it to look exactly how you want. And no two websites ever look the same.
Mistake #3 - You are just "winging it" and don't have a plan for success
Does this sound like you?
Are you constantly asking Google for advice or binge-watching "how to" videos on YouTube?
Do you feel overwhelmed and stressed out like you are just spinning your wheels?
Yes?
Then you, my friend, are "winging it".
Here's the thing: you are not being lazy if you follow a proven system to create and launch your website.
This makes you SUPER SMART in my book.
Otherwise, you are going to end up spinning your wheels, trying every new thing you read about and end up feeling stuck.
Here is my tip: You will launch your website in less time and without the headaches when you follow a proven system for success.
I know what you may be thinking…
But Jennifer, can I really do this?
THE ANSWER IS YES!
Ready to create your beautiful new website?
Click here to tell me more about your website project and what you are trying to achieve.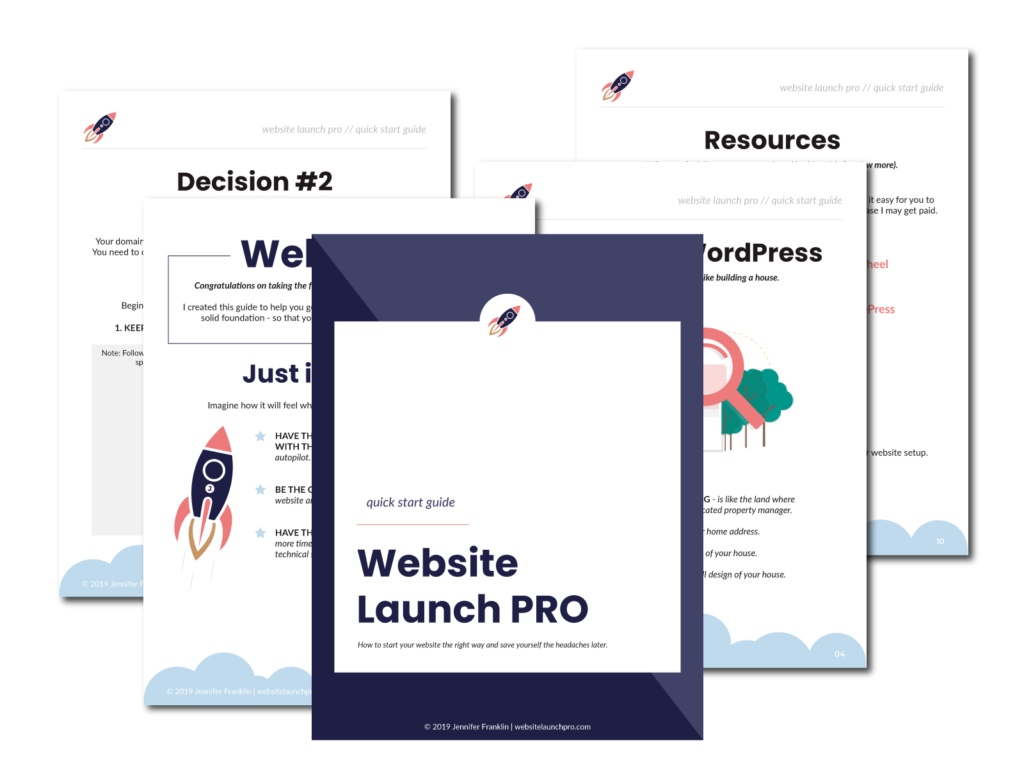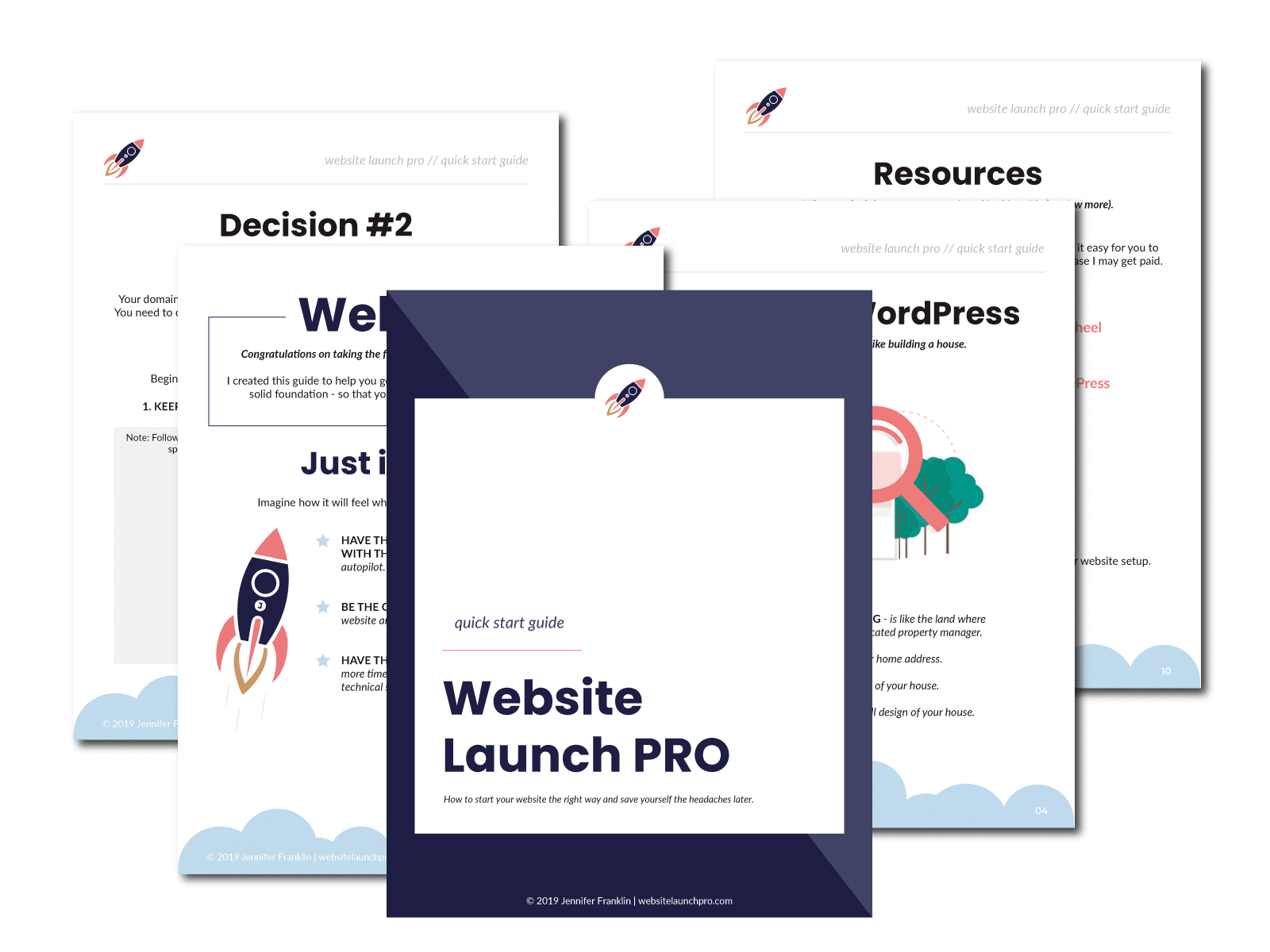 Want my FREE Website Launch PRO Quick Start Guide? CLICK HERE and I'll send it to you! Inside I show you how to get your website set up the right way - built on a solid foundation - so you can save yourself the headaches later. 🙂
What do you think?
I hope you found this video useful. Leave me a comment below.