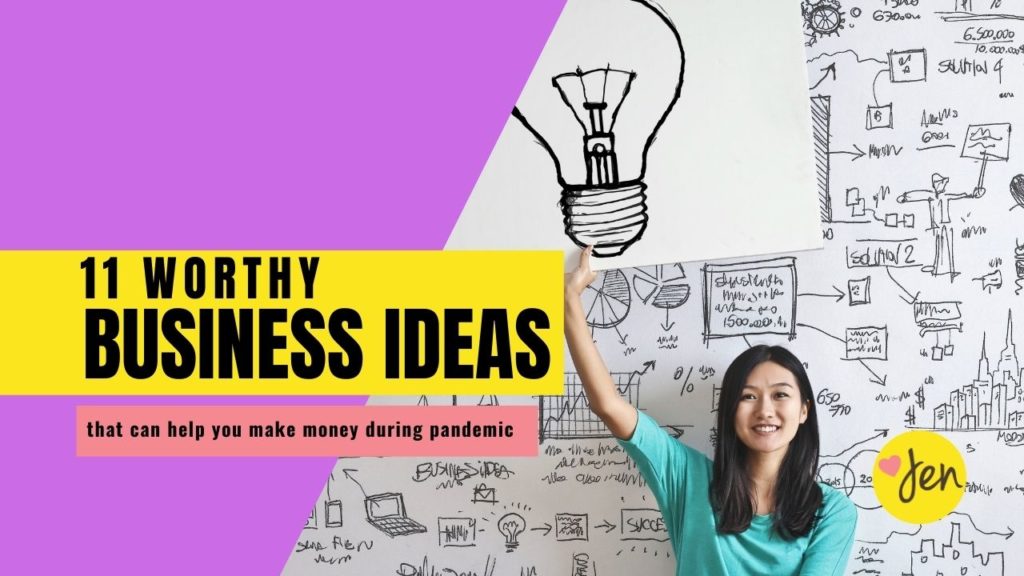 Because of the COVID-19 pandemic, many people have lost their jobs. This can be daunting as bills, and household expenses continue to accumulate.
We have seen many online and home businesses popping up. Some people were successful in looking for work-from-home opportunities. This is a way for many people to earn despite the pandemic.
If you are thinking about ways to make money during the pandemic, here are some worthy business ideas to get you started:
1. Affiliate Marketing
Affiliate marketing is a type of marketing where you promote another company or brand on your website. In exchange, you will earn when users or customers buy their products via your links.
One of the best things about affiliate marketing is that there are no sign-up fees if you wanted to get started. Furthermore, you also have the opportunity to promote products that you believe in or which you think are relevant to your niche or site.
2. Online Tutor
The global pandemic has pushed how education works. It forced schools to shut down with all the panic, and teachers are scrambling to adjust in an online environment.
So, if you have a passion for teaching, you can sign up for one of the online tutoring platforms and become an online tutor. You can give students much-needed instructions that they need without exposing you (or them) to any health risks.
Most online tutor platforms out there will pay you for $10-20 per hour only by just working from home!
3. Drop-shipping Business
So, what is dropshipping? In a nutshell, it is a business model wherein you order products for your customers from a third-party. Then, the company will ship these products to your customers.
Meaning, you're not the one who will go through with the actual shipping and packaging. Starting a dropshipping business requires minimal start-up costs, and the overhead is low.
Plus, what's great about it is that you can offer a diverse range of products to your customers.
4. Home Food Delivery Service
Starting a food delivery business is an excellent business option for people who prefer or may want to work from home because of the pandemic.
If you love cooking for other people, or you're the go-to person to cook for holidays and family events, then you can quickly turn that passion into profit.
5. Stock Photography
Another great way to earn is to sell your stock photos on Adobe Stock, Shutterstock, Etsy, and Alamy.
You can come up with your stock photo website and sell those photos. Although you won't start with high earnings, you can earn a decent income from hard work and excellent networking skills.
6. Homemade Washable Face Masks
These days, it is mandatory for everyone to wear face masks when they are in public.
So, now is a great time to put your sewing skills and come up with stylish face masks. You can sell it on eBay, Etsy, and even on your website.
Just know that certain websites have guidelines about selling them. For instance, Etsy has guidelines wherein you could not advertise masks as medical devices.
7. Look for Freelancing Opportunities
Freelancing is another great way you can tap to make money from home, as you can do it remotely.
You can look up various freelancing opportunities and land your first freelancing gig on these sites:
Craigslist
Fiverr
Upwork
Freelancer Facebook Groups
Problogger
8. Fitness and Wellness Programs
Since the pandemic has forced many people to stay inside their homes, they need that extra push more than ever.
Both fitness and wellness content has become increasingly popular this pandemic. So, if you have a background in health and wellness, then you can use this opportunity to help people better themselves.
Creating blogs and articles, for instance, is a great way to share those healthy recipes and workout routines. You can consider starting a website or a YouTube channel. Better yet, create an online course to share your workout routine and recipes.
Once you're done with a video, you can edit it, add music, upload it on Youtube or IGTV. If you already have a dedicated online following, you can also develop personalized diets or workouts for them at an added cost.
9. Be a Delivery Driver
There's a huge demand for delivery drivers these days for online shopping and food delivery services.
Note that although there's a huge need, it's also a riskier way to earn.
So, if you're considering this option, think of the risk in your category and the potential risk for the people in your household.
10. Become a Virtual Assistant
If you're an excellent communicator, have great digital and organization skills, then you might consider becoming a virtual assistant.
Generally, virtual assistants are like executive assistants who work remotely. They are the ones responsible for overseeing daily administrative tasks. This includes responding to emails, scheduling and moderating online meetings, and organizing digital files.
There are several virtual assistant websites out there where you can apply. What's cook about working as a VA is that you bring in your previous job skills. If you used to work in a corporate setting, you could apply your skills as a VA.
Some of the best companies you can work with as a VA are Remote CoWorker, Task Bullet, and Belay.
11. Sell Your Stuff
The pandemic is the best time to declutter! Maybe you already have a lot of stuff in your home, and it is already quite distracting.
So, why not sell the stuff that you don't need? This is a great way to have some extra cash at hand. For instance, you can sell used electronics at Gazelle and uSell.
If you have worn clothes, you can list them up at Poshmark. Have extra furniture? Head to Chairish. Do you have books and other collectibles? Sell them on eBay.
Final Thoughts
The worthy online and home business ideas listed above can provide you a fantastic way to earn money even during a pandemic.
Although times like these are not easy, you need to focus on what is essential. Your family and health should still be your top priorities.